Low-Maintenance Exterior Material Options for Your Home
They may cost more up front, but these low-maintenance materials save later on frequent repainting and replacement—without skimping on curb appeal. With some careful choices and some extra resources, you can upgrade your house with long-lasting materials that will take some maintenance chores off your to-do list.

Types of All-Weather Trim
Duration crown molding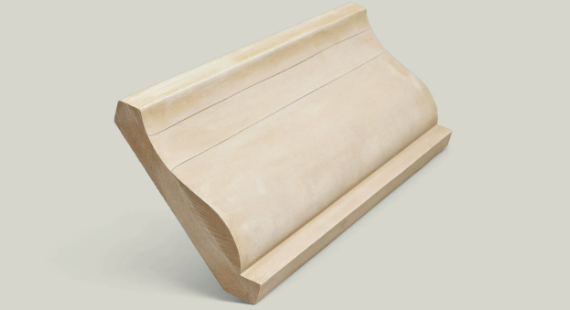 This 9-inch-wide molding is milled from TruExterior poly-ash, a material impervious to water and barely affected by temperature swings. It's also approved for use in areas prone to wildfires. Cuts smoothly with ordinary carbide saw blades, and you can fasten it with 15- or 16-gauge nails as close as 1⁄8 inch from an edge without it splitting or crumbling.
$19 per linear foot
What is Poly-Ash?
This amalgam of adhesive polymers and fly ash recovered from coal- burning power plants is marketed under the name TruExterior. Its uniformity allows it to be milled into paint-grade exterior products, such as siding, molding, and trim, and its dimensional stability in all temperatures helps paint applied to it last longer. It can also survive ground contact. All TruExterior products are covered by a 20-year warranty.
Canvas Series Beadboard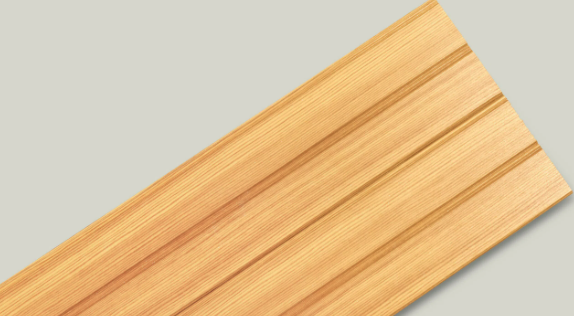 This tongue-and-groove product for porch ceilings and soffits is made of cellular PVC with a water-resistant, wood-look laminate film bonded to one face. It's a low-upkeep alternative to real wood, especially in high-moisture coastal areas. Comes in five finishes, and is also available in V-groove, bed molding, and 4-inch crown profiles. All have a limited lifetime warranty on the substrate and 12-year coverage on the laminate.
About $4.50 per square foot
Low-Maintenance Fencing Options
Elements Performance Fencing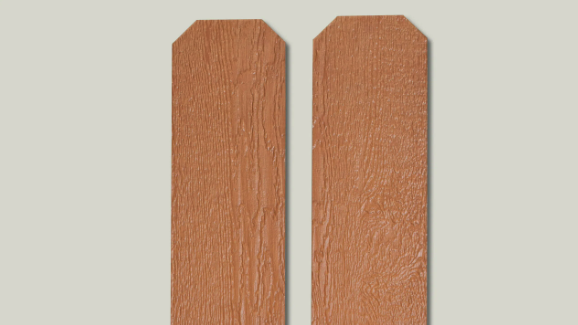 These dog-ear pickets, 5 5⁄16 or 6 inches wide by 6 or 8 feet tall, are made of wood strands held together with water-resistant resin, and treated with zinc borate to stop fungi and termites. A painted, resin-saturated overlay offers added protection; the finish has a limited 10-year warranty and can be repainted. This fencing won't warp, but any cuts or nails that penetrate the overlay must be covered with exterior-grade paint. Comes in four colors.
From about $4.50 per picket
What is Engineered Wood?
Basically, it's wood sliced into veneers, flakes, or strands and glued back together to make boards, beams, or sheets. These reconstituted products are stronger and more stable than the wood they came from originally, but are also more vulnerable to the effects of moisture. Widely used for interior applications, including framing, flooring, and cabinetry, engineered wood needs to be completely saturated with preservatives to survive outside.
Types of Low-Maintenance Siding
Everlast Lap Siding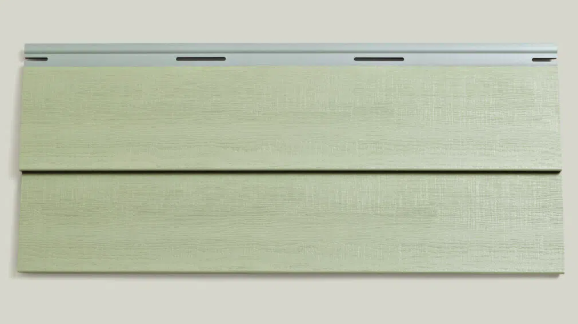 Available with either a 4 1⁄2-inch- or a 6 7⁄8-inch-wide exposure (shown), this interlocking lap siding is made with a mineral-enhanced PVC-foam substrate bonded to a UV-resistant, embossed acrylic outer layer that never needs painting.
Each piece interlocks with its neighbors, top and bottom, enabling the siding to survive high winds (up to 198 mph for the 4 1⁄2-inch option). Because the substrate repels insects and water, and stainless-steel brackets reinforce the joints, there's no need for caulk or primer. Available in 15 colors with matching trim pieces, with a limited lifetime warranty.
From $5.75 per square foot
Cedar Impressions individual 5-inch sawmill shingles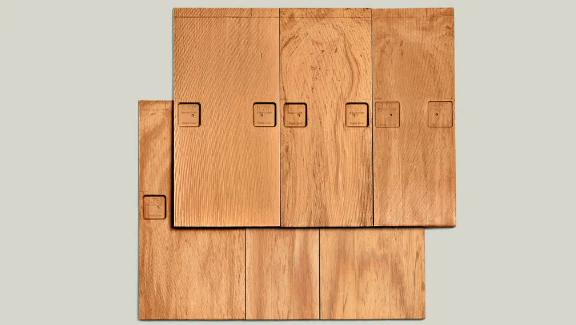 Sun and weather quickly rob cedar shingles of their fresh-cut look, but these solid polypropylene ones keep their color for years. Molded-in saw marks, varied widths, and one-at-a-time installation give walls a true shingled look. A lifetime limited warranty covers defects; no-fade coverage lasts 10 years. Comes in 17 colors.
James Hardie Artisan shiplap siding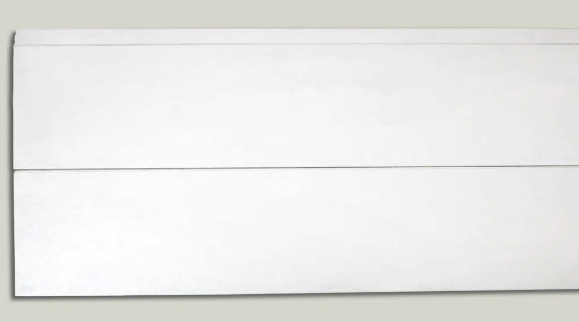 The 9-inch-wide faces of these tongue-and-groove, fiber-cement planks nestle together, leaving a narrow nickel gap between each face. The material is primed, fire resistant, and hardly affected by temperature swings, so paint adheres longer. When installed correctly, this material is covered by a 30-year warranty.
About $4 per square foot
What is Fiber Cement?
Blending wood fiber into wet cement preserves those fibers in a high-pH, rot-free environment, and makes the cement stronger and harder to crack. The resulting siding or trim is heavy, but virtually unaffected by temperature changes, so paint holds up for many years.
Fiber cement isn't immune to moisture—those fibers can still suck up water—so any cuts or overdriven nails have to be primed or caulked, and siding and trim must stay clear of the ground and any adjacent roof surfaces.
AZEK Shingle Siding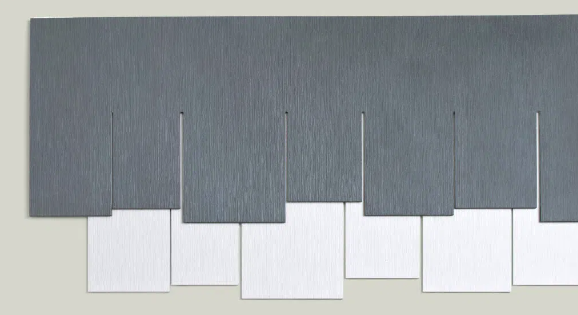 These 48-inch-long, cellular-PVC panels install faster than individual shingles, yet retain the offset gaps and variable widths of a traditional shingled wall. Choose either a straight or staggered pattern (shown); both have 1⁄4-inch-thick butt ends. The surface is treated to accept 100 percent acrylic paint. A limited lifetime warranty covers manufacturing defects.
About $4 per square foot
What is Cellular PVC?
It's vinyl—like the floppy stuff used as siding—but during manufacture it's injected with nitrogen gas to make it swell. The resulting boards, moldings, and siding have the same density and dimensions as solid pine, but are free of defects and are immune to decay and insects.
They expand and contract lengthwise as temperatures change, movement that has to be factored in when long lengths are installed.
Celect Cellular Composite Coard-and-Batten Siding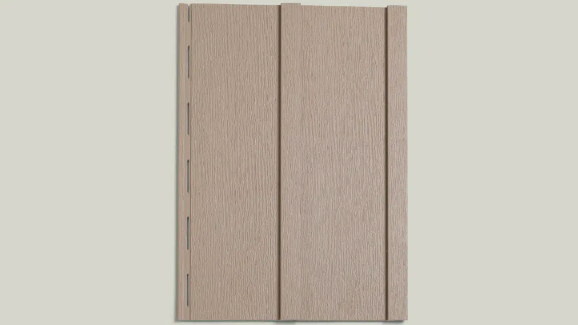 The rustic simplicity of this vertical siding is achieved with 9-inch-wide planks of cellular-PVC foam. Molded-in battens make installation faster than the wood version, and they interlock for weatherproof joints without caulk.
The factory-applied PVDF paint, in 15 colors, has a 25-year warranty against peeling, chipping, and cracking.
About $30 per square foot
Lifespan Solid Select Beveled Siding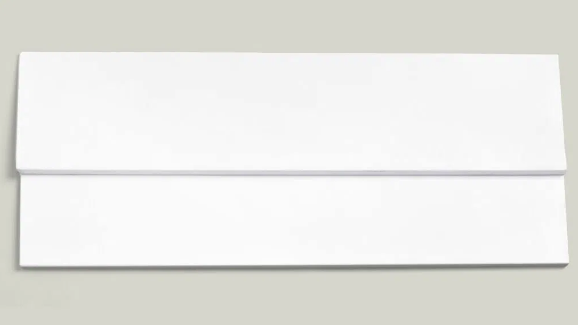 This 1⁄2 x6 siding actually is made from trees: plantation-grown radiata pines that yield long lengths without finger joints or knots.
But since raw radiata has almost no resistance to rot or insects, this product is pressure-treated with insoluble, EPA-approved preservatives, and is double-primed; its durability is backed by a limited lifetime warranty. It's also available in a variety of exterior trim and molding profiles.
About $3.75 per square foot
Durable Decking and Railing Options
RadianceRail Railing
This PVC-and-wood-fiber composite, coextruded with a high-gloss, scratch-resistant acrylic cap, has the classic look of a perfectly painted wood railing, and a 25-year warranty. It's strong enough to bridge spans up to 8 feet wide (10 feet with extra aluminum-tubing reinforcement), and the post-to-rail connections are hidden. Comes in five colors.
About $41.50 per linear foot for a complete rail assembly
Legacy Porch Flooring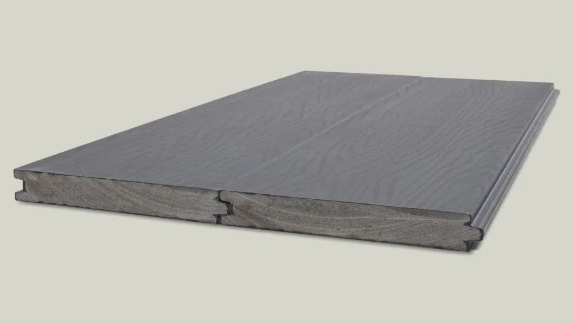 The 6-inch-wide face of this tongue-and-groove flooring harks back to the wide wood planks found on early American porches. But its water- and insect-proof, solid-PVC core has a fade-resistant, textured acrylic cap that meets ADA slip-resistance standards and keeps maintenance to an absolute minimum. Comes in three colors, with a limited lifetime warranty.
About $12 per square foot
Apex PVC Decking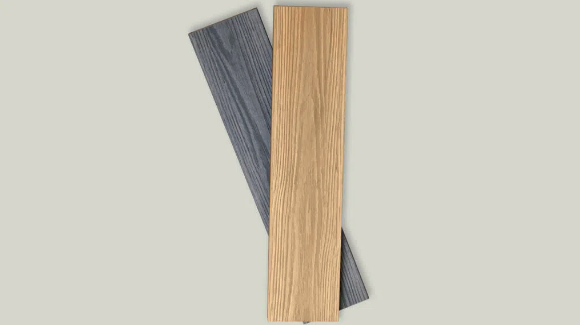 Thanks to a core of cellular-PVC foam reinforced with strands of bamboo, these 5 1⁄2-inch-wide composite boards are 45 percent lighter than standard wood-plastic composites and expand and contract 25 percent less than solid PVC. An acrylic cap, double-embossed for a realistic wood look and high slip resistance, helps stop abrasion and fading. Comes in four colors, with a 25-year warranty.
About $4.60 per square foot
What is Composite Decking?
The original composites were made from recycled milk jugs that were melted, mixed with wood fiber, then extruded. Now manufacturers tweak their mixes with different materials to reach a desired performance and price point.
The best composites are capped with a layer of acrylic, a UV-resistant polymer that can be colored and textured to look like wood, but won't decay or suffer insect damage. A textured surface also plays an important role in slip resistance when a deck is wet.
https://walltowall.net/wp-content/uploads/2023/09/Screenshot-2023-09-29-at-3.02.49-PM.png
601
897
Theresa Ratajczak
https://walltowall.net/wp-content/uploads/2016/09/image002.png
Theresa Ratajczak
2023-09-29 19:40:09
2023-09-29 19:40:09
Low-Maintenance Exterior Material Options for Your Home