"Wall To Wall Construction is a quality focused firm, dedicated to exceeding client expectations. A home can be a foundation for family and every day life, and when we enhance that experience it is truly rewarding."
Greg Wall, President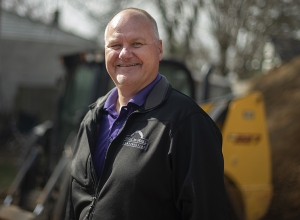 Founder and home remodeling expert Gregory Wall, was born and lives in the Baltimore County area with his wife of 20 years and 4 children. He graduated from Mt. St. Joseph High School and UMBC. He began his career as a CPA holding executive positions in the corporate sector for 15 years.
The son of a contractor, his passion for construction came full circle in 2005 when he launched Wall To Wall Construction, LLC (W2W). His attention to detail, quality, and design, coupled with the skilled craftsmanship of his team make W2W one of Maryland's premier home remodeling companies.
W2W is a full-service, turn-key design-build firm specializing in single and multi-story additions, whole house renovations, custom homes, kitchens, baths, green remodeling, "Age-In-Place" remodeling solutions for the disabled and aging, and exterior remodeling including roofing, siding, windows, hardscaping and more.
A sister company to W2W, Patapsco Valley Pools, partnered with Groundshog Lawn & Landscape installs high-quality fiberglass swimming pools for the Central Maryland area. The COVID-19 crisis created a need for stay-at-home recreational activities and after being approached by several clients, Greg began researching options for pools, and fiberglass pools ended up being the best quality. He has since become a certified dealer for Leisure Pools, a family-owned and operated company, offering composite fiberglass pools. Wall to Wall Construction and Patapsco Valley Pools offer projects that include fiberglass pools, state-of-the-art filtration, lighting, and water features along with patios, walls, decks, pavilions, and outdoor kitchens, delivering a slice of paradise right in your own backyard.
Most recently, Greg has added a flooring division under the W2W brand. Wall-to-Wall Floor Coverings offers professional flooring options including hardwood installation, refinishing, luxury vinyl, carpet, and tile. In tandem with Greg's long-time associate Lou Valentine, our flooring team has more than a quarter-century of installation experience and is committed to the same excellence you expect from Wall-to-Wall.